Back to All
SMACKDOWN LINE UP ALL SET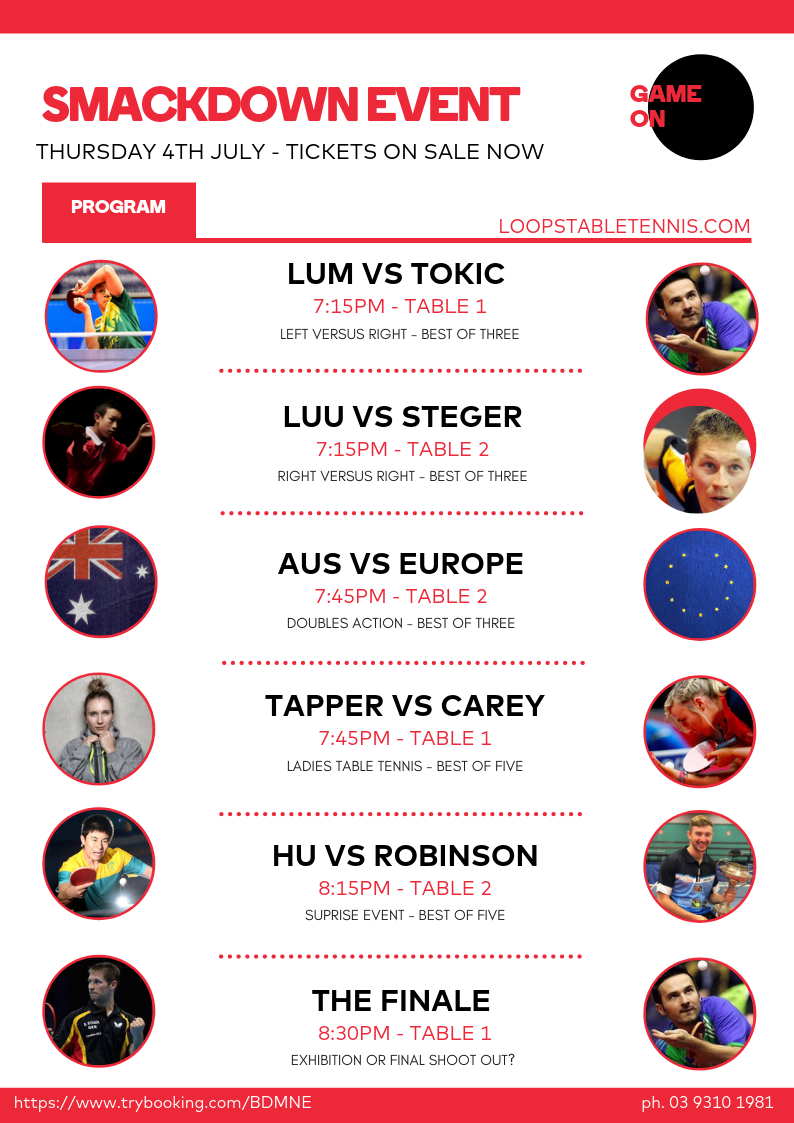 The lineup is all set and it's Europe versus Australia with local coach and trainer Ashley Robinson playing for the opposition as he prepares to take on the Aussie number 1 and giant Heming Hu. "Whilst Heming would be favourite, I know I can beat any of the Aussies on my day." said Robinson.
"I've never played for Europe and the feeling is pretty cool, it's a privilege to be playing with the legend of Europe." Robinson continued.
Whilst the European line up start favourites, Robinson explains that the Aussies could be dangerous due to the home crowd advantage and the obvious team spirit issues with his team coming from all over the world for this event.
"Whilst Finn and Nic will find it difficult against Bastian and Bojan, it will not be an easy task due to the best of three scenario where anything can happen," Robinson explained.
The event will start off with the younger Aussie boys taking on the elder more experienced lads in a best of three singles each followed by a doubles match. With Melissa Tapper scheduled to take on Charlotte Carey of Wales in a best of five.
Bottom line, the line up is amazing, we have some of the best in Europe, the guys who've dominated the Australian scene this year in the likes of Robinson and Heming, local champions Melissa, Finn and Nic followed by a spectacle with Bastian and Bojan teasing us before the Aussie Open.
All proceeds will go towards the Chris Horwood, ITTF VIS fund and the future of Australian Table Tennis.