A membership at LOOPS not only ensures a safe, fun and unique facility to play, but you'll also receive some great benefits. As part of our community you will have access to state-of-the-art equipment, plus make some great friends along the way.

Join us for new spins on a classic game today!
NEW CASUAL ENTRY YEARLY MEMBERSHIP
PRODUCT ) Enjoy up to 3 visits weekly, an upfront yearly payment of $750 which does not include racket hire. Only non-marking sole shoes allowed, see availability and work with duty manager to book a table, by application only with a membership that works to be approx. $15 per week. Please note TTV Social Registration & Membership included.
CASUAL ENTRY YEARLY MEMBERSHIP (by application only)
$14.50 WEEKLY
Call JOE ON +61 3 9310 1981
Call Us to Book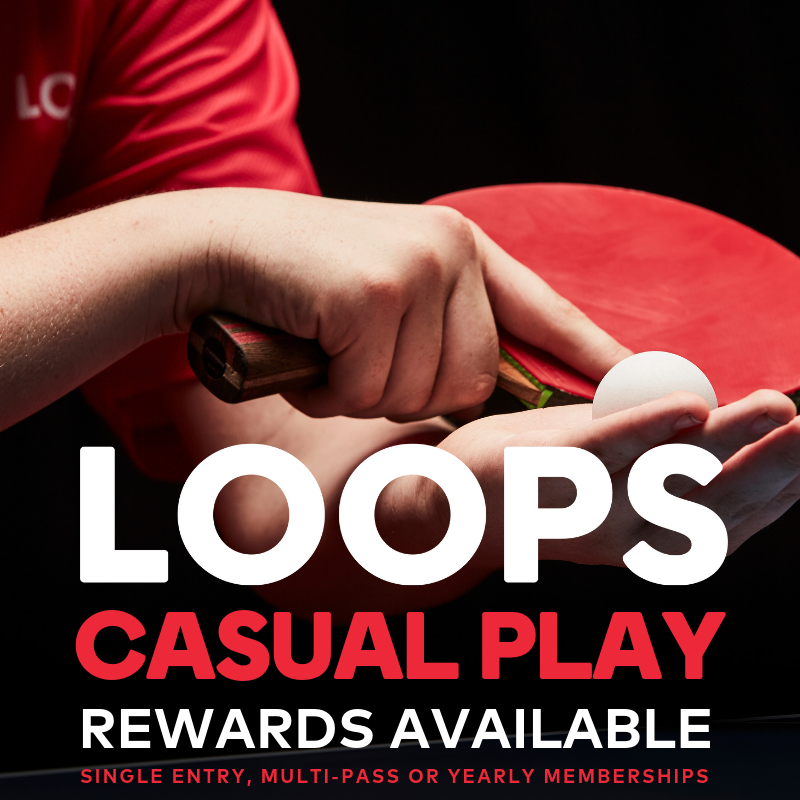 NEW IN 2020
CASUAL ENTRY
Enjoy LOOPS as often as you like, with our new upfront yearly membership of $14.50 per week. Or purchase a discounted MULTI-PASS to save.
Learn More
CASUAL ENRTY (PRODUCT 280100010127)
single person entry and play
upfront payment of $15 per person
does not include racket hire
non-marking sole shoes only
see availability and call to book
CASUAL ENRTY 10 X PASS (PRODUCT 280100020133)
up to 10 visits for 3 hours of play each time
upfront payment of $110 per "PASS"
does not include racket hire
non-marking sole shoes only
see availability and call to book

 
CASUAL ENRTY YEARLY MEMBERSHIP (PRODUCT 280100030149)
up to 3 visits for weekly
upfront yearly payment of $750
does not include racket hire
non-marking sole shoes only
see availability and call to book

 

by application only
works out to be $14.50 per week
SIGN UP NOW
---
Book a Trial
Contact Us
Close