Back to All
PROGRAM GUIDE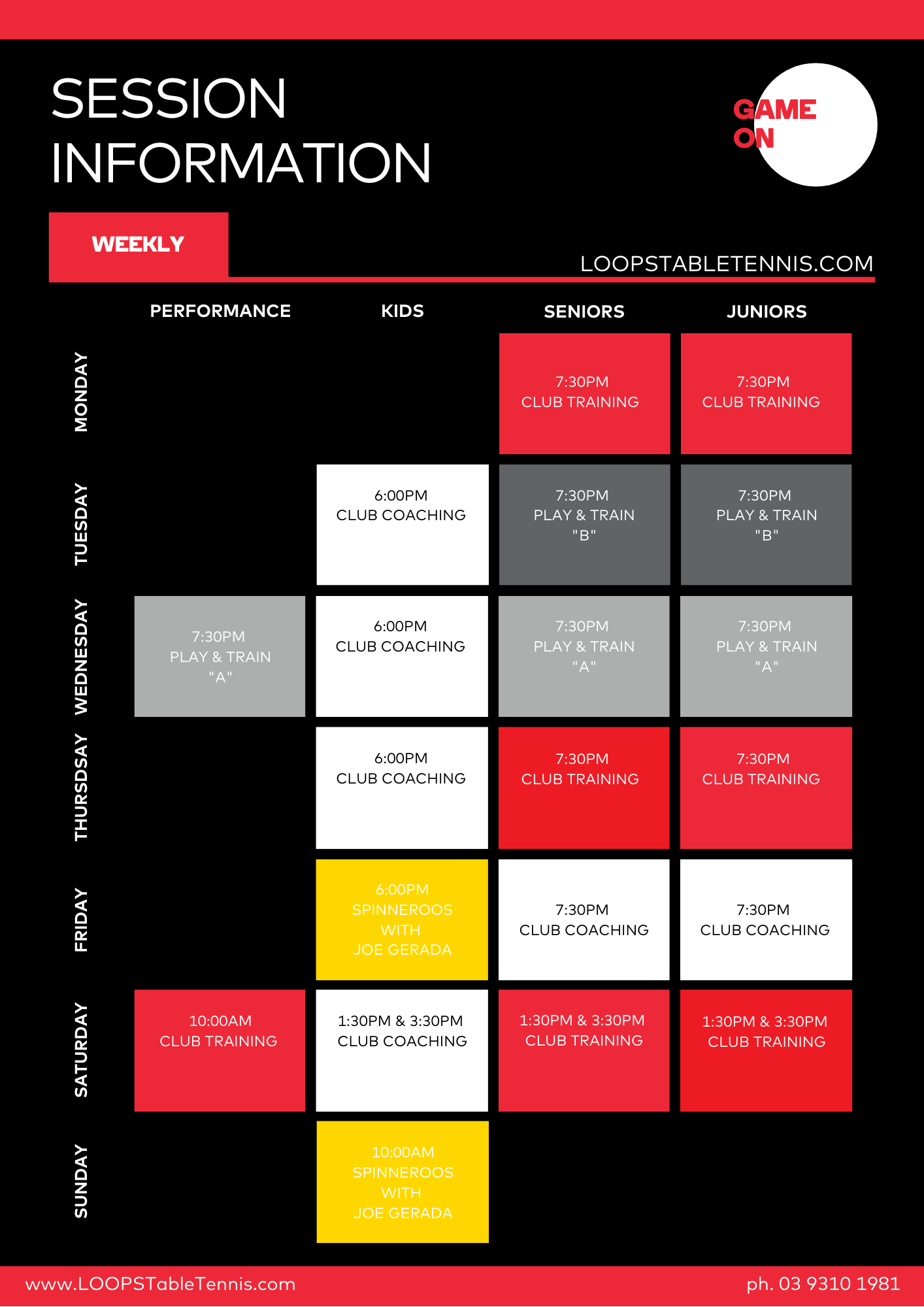 Are you excited to get back in the LOOP or LOOPS? Whilst 2020 may almost be over and 2021 is just around the corner, we'll be open again on Monday the 9th of November! So get ready for 2021 or enjoy the remainder of 2020 with LOOPS and to make up for the lost time with our new group training, group coaching and court booking schedule. Welcome back to LOOPS as we finish 2020 together! Team Loops
CLUB TRAINING
We understand you might be out of sorts and will need some time to get into shape. Which is why we have introduced the "CLUB TRAINING" nights on Monday, Thursday and Saturday. With coaches and staff on hand to feed some balls, give some tips, set up robots or point you in the right direction. our CLUB TRAINING is ideal for the experienced player returning to play.
CLUB COACHING
A balanced offering for all levels of play with CLUB COACHING on Tuesday, Wednesday, Thursday, Friday and Saturdays in a group environment. Learn the tricks of the game faster, improve your skills and understand the methods required for sustainable improvement.
PLAY & TRAIN
Mix and match your opponents, earn club respect and play a match or train your game. Held on Tuesday and Wednesday nights, LOOPS attracts some of the best and worst players in the area, challenge fellow club members or guests from off the street in our Play & Train evenings. Oh… and in 2021 don't forget to stick around and enjoy a cold drink with John after you play or train!
SPINNEROOS
At Spinneroos our vision is for primary school children to bounce into table tennis with a smile and a group of new friends. We do this by providing engaging and fun activities in a safe environment in which children can get active, express themselves and create great memories with other Spinneroos.
Your child will go through 8 exciting weeks of table tennis, receive a personalised equipment pack and develop hand-eye coordination as well as social skills.