Back to All
JANUARY 2019 PROGRAM WITH HANNAH GREEN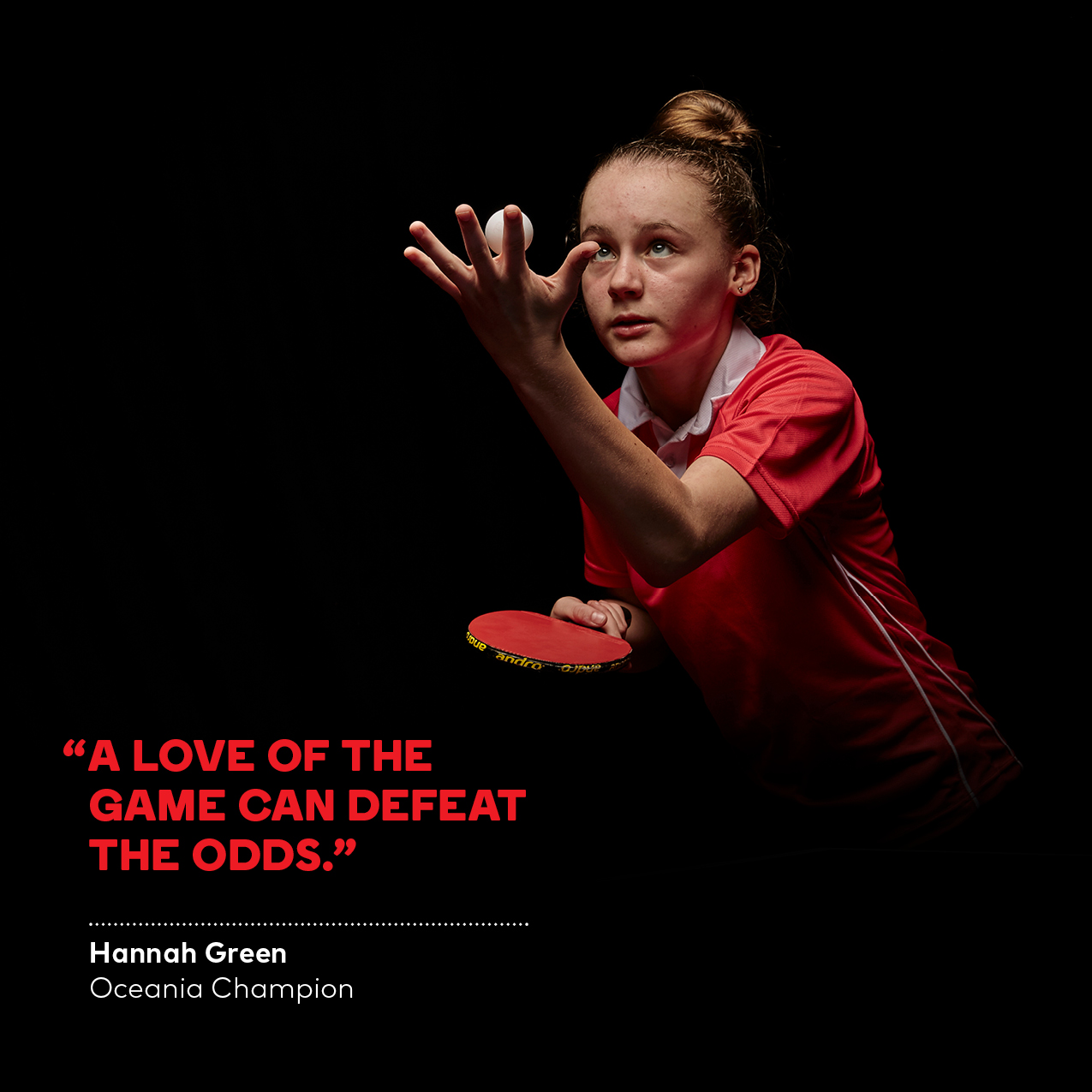 Introducing Hannah Green, an Oceania Hopes Champion, Victorian Champion and LOOPS powered by HWATT squad member since 2013.
LOOPS: How did you come about choosing Table Tennis?
Hard training with a balanced approach to having fun is what has kept Hannah increasingly interested in Table Tennis, but it was her brother having a hit of table tennis with Dad (Paul) that sparked the ignition to future championships and the rewards that followed.
"I saw dad playing my older brothers, I love sport and just wanted to have a turn. The initial fun of it led me to getting coached and training seriously."
LOOPS: Did you ever imagine traveling to Luxembourg for Table Tennis?
In 2017 Hannah began her international experience with the Australian Hopes Qualification in Camberwell finishing 2nd to sister Olivia earning her place to represent Australia at the Oceania Hopes Challenge in Tweed Heads where she finished 1st again earning her place to represent Australia and the Oceania region at the World Hopes Challenge in Luxembourg.
"At first I didn't imagine or realise there would be such opportunities, I think that the Camberwell experience with thanks to Table Tennis Australia, ITTF-Oceania and the ITTF really opened my eyes to the possibility which led me to putting all my efforts into training and earning my place in Luxembourg." 
LOOPS: What is your favourite part about being involved in table tennis?
Today, Hannah trains with her sister Olivia, brothers Xavier and Isaac as well as her father Paul once a week, enjoys competing in local competition at the Bendigo TTA and joins in three classes weekly with the LOOPS family in Melbourne. The hike for the family is a three hour round trip but it is the intensity and the sustained focus required in table tennis that keep Hannah motivated and working to the best of her ability.
"I like the intensity the game requires, and the sustained focus needed in matches. I like training, developing, challenging myself and the high level of fitness needed to outplay opponents over the long periods of my career." 
LOOPS: WHO ARE YOUR ROLE MODELS? 
Hannah is part of a Sporting Excellence program at school, providing the young athlete no shortage of role models. But it is her team mates that draw the best motivation with the ability train alongside some of the best athletes in the country.
"I enjoy watching Melissa Tapper playing and competing. I have admired her achievements representing Australia at the Olympics and Paralympics during the Rio games. I get to train next to Melissa and can see how she overcomes adversity over the long periods but also seeing her overcome obstacles in her day to day environment during training sessions."
LOOPS: FINAL QUESTION, WHAT'S YOUR CURRENT HOUSEHOLD RANKING? 
Earning the top spot in the Green household would set any youngster up well but the advantage is clear here, with the house coach (dad) in charge of officiating whilst mum (Amanda) is in charge of organisation.
"My twin sister (Olivia) and twin brothers (Isaac & Xavier) have all represented Victoria making the challenge difficult. The champion changes regularly, however I am pleased to say that I am the current house champion." 
Making the entire Green family a team of participating winners
OUR DAILY ENVIRONMENTS
Our thoughts are simple, create the environment and champions will come. Plan the program to suit the environment and individuals will take advantage of it. Ask what we can do better and quality will continue. Set the limits and demand more. Finally, create a benchmark to only find it be surpassed.
OUR VENUE
Our venue will play host to many of the World's best Juniors in preparation for the World Junior Championships and was built with the January program in mind. A venue conducive to World Class training and athletes like Hannah, providing all the tools required to improve. From five robots to aid better quality sessions for developing players, or specific shot development for the likes of Hannah to all the other important tools needed to produce champions.
OUR JANUARY PROGRAM
Is challenging, is disciplined and is monitored. A coach knows that learning should be fun, but fun is not just playing around. It is a carefully balanced approach to get kids responding to improvement. I've been in the game for over 20 years now, I know what it takes, have seen so many kids come through the system. It can be tough, it can be challenging but that is what we take the road less traveled.
Sessions are scheduled with physical training (off table) sessions, theory classes to help understand what high performance table tennis is and more than five hours of on table training daily carefully managed with competition practice and service training.
JANUARY 2019 PROGRAM – DETAILS