Back to All
JANUARY 2019 PROGRAM WITH ANERUDDH NANDAKUMAR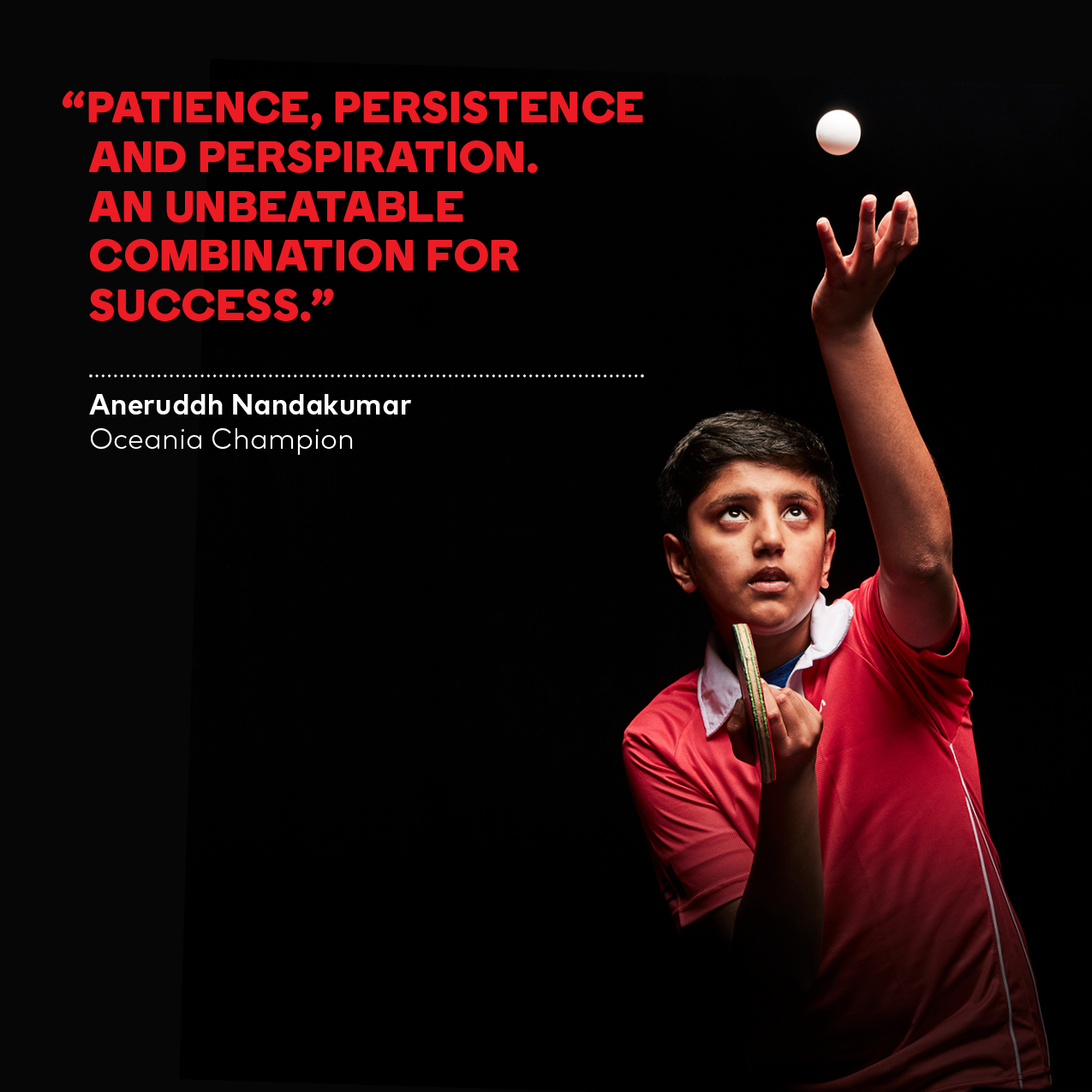 Introducing Aneruddh Nandakumar, an Australian and Oceania Hopes Champion.
LOOPS: You made World Hopes this year, what was qualifying like?
"There is more to Aneruddh Nandakumar than meets the eye" explains Simon Gerada, LOOPS Manager and SGTTA Coach. He seems to be one of those kids that gets what he wants. Like representing Australia in Luxembourg at the World Hopes event this year.
"It was tough, I knew I had a chance but I started working on it nine months before the event and wasn't sure if I can really do it. Training for the Hopes was tough, being a part of the World Hopes week was even tougher."
The World Hopes week has seen many of Oceania's and Australian upcoming champions participate and become an ingredient for coaches to educate and inspire, the likes of Finn Luu, Hannah Green, Nicholas Lum and Zaki Zenaidee utilise the program to understand International level standards from an early age.
"I received the 'Bronze Award' at school in recognition of my dedication and cooperation which was great."
LOOPS: Do you prefer to train, compete or both?
A key ingredient in preparing children for future success is in rewarding the child with satisfaction, not all kids are born the same, not all kids have the same talents, skills or aspirations.
"I prefer both as I understand training is what helps me improve and achieve my goals."
Aneruddh is a work in progress, only 11 years old he has achieved championships wins through a dedicated program aimed at attracting kids to work harder for longer. With his first milestone achieved, Aneruddh understands the importance of training and is willing to put it on the line.
LOOPS: Who are your role models and why?
With the likes of Harimoto, Ma Long or Fan Zhendong only a click away, kids of today do not need to go far to find role models, making the job of a coach an easier task than the coaches of the 80's and 90's
"Timo Boll is great to watch, has a good attitude and is my favourite player and role model."
Boll recently won his seventh European Championships at the age of 38, giving hope to all Australian players that time is on our side with coaches around the country understanding that the marathon is where Australia need to look. Twenty-Seven more years of training and improvement for the likes of Aneruddh is on his side.
OUR DAILY ENVIRONMENTS
Our thoughts are simple, create the environment and champions will come. Plan the program to suit the environment and individuals will take advantage of it. Ask what we can do better and quality will continue. Set the limits and demand more. Finally, create a benchmark to only find it be surpassed.
OUR VENUE
Our venue will play host to many of the World's best Juniors in preparation for the World Junior Championships and was built with the January program in mind. A venue conducive to World Class training and all athletes like Aneruddh, providing all the tools required to improve. From five robots to aid better quality sessions for developing players, or specific shot development for the likes of Aneruddh to all the other important tools needed to produce champions.
OUR JANUARY PROGRAM
Is challenging, is disciplined and is monitored. A coach knows that learning should be fun, but fun is not just playing around. It is a carefully balanced approach to get kids responding to improvement. I've been in the game for over 20 years now, I know what it takes, have seen so many kids come through the system. It can be tough, it can be challenging but that is what we take the road less traveled.
Sessions are scheduled with physical training (off table) sessions, theory classes to help understand what high performance table tennis is and more than five hours of on table training daily carefully managed with competition practice and service training.
JANUARY 2019 PROGRAM – DETAILS