Back to All
World Junior Table Tennis Championships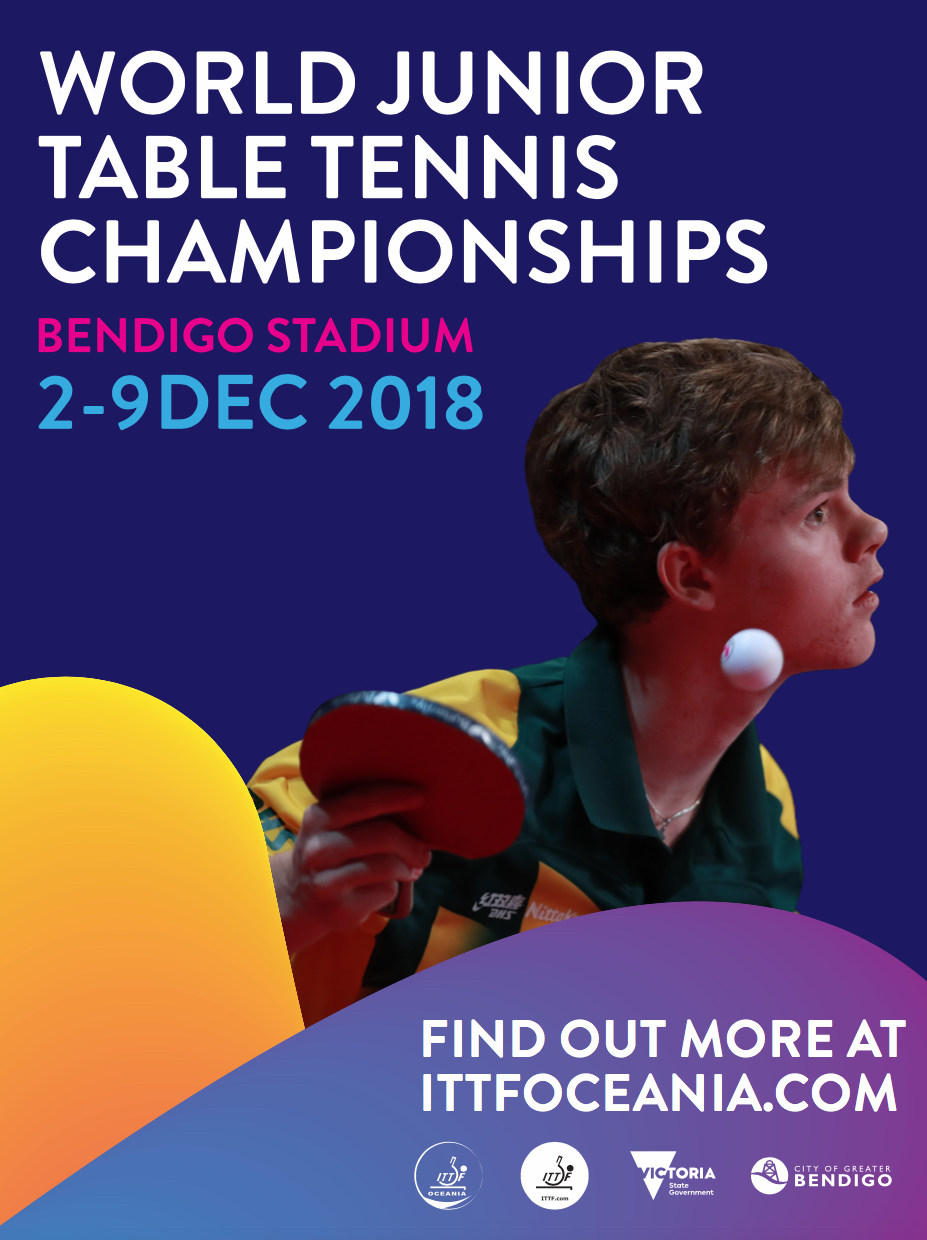 Welcome to the 2018 World Junior Table Tennis Championships to be held in Bendigo from the 2nd to 9th December 2018.
The official logo for the 2018 ITTF World Junior Championships has been unveiled today as tournament hosts ITTF-Oceania begin to rollout their vision for the international event.
The vibrant and dynamic emblem is based on the movement of the table tennis ball and looks to capture the youthful energy the event will bring.
The event will be staged in Greater Bendigo. The arrival of the tournament on Australia's shore will be a milestone, marking the first time the ITTF World Junior Championships will be held within Oceania since the tournament's inception in 2003.
"We are excited to bring such a prestigious event to the region," said Christian Holtz, ITTF-Oceania Executive Director.
"Launching the logo is just the first step in building the event's profile and enhancing the development of the sport within Oceania."
The world's best Under 18 athletes will flock to Greater Bendigo to contest titles in Teams, Singles, Doubles and Mixed Doubles events. More than 160 athletes from 32 teams are expected to compete in the newly expanded Bendigo Stadium.
Bendigo is fast developing a reputation for attracting world class table tennis events, after hosting the ITTF-Oceania Cup in 2015 and then the ITTF-Oceania Olympic Qualification Tournament in 2016.
Mayor Cr Margaret O'Rourke said she was looking forward to seeing the upgraded Bendigo Stadium host the ITTF World Junior Championships.
"This event is a great example of Bendigo's ability to attract and stage world-class sporting events," Cr O'Rourke said.