Back to All
2019 NATIONAL HOPES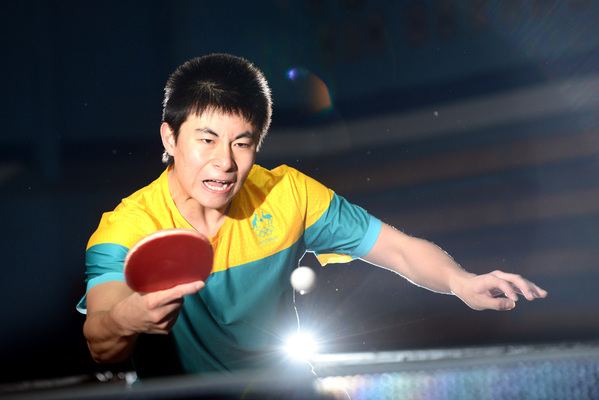 Australian Olympian and current National Championship title contender Heming Hu will be in action and on duty this Monday during the National Hopes program to lend a hand to Australia's next Hopes Championship contenders.
The entry list is in and LOOPS Table Tennis is overwhelmed with happiness as the 22 strong field from all over Australia is set to be trained, inspired and treated to a good time with thanks to Table Tennis Australia. "it's turning out to be an amazing event, TTA are investing in the HOPES PROGRAM" said Simon Gerada. Events and programs are always held, but the 2019 National Hopes program just seems to be ticking all the boxes with six states and territories being represented, the National Coaching team led by Coach John Murphy and Miao Miao driving the program and its objectives, ITTF-Oceania involved with Patrick Wuertz, senior members of the National team (Heming Hu and Melissa Tapper) lending a hand and the facility is in good shape for the event. It's no wonder the former Australian Champion and LOOPS Director is so pleased. "Our organisation appreciates the trust TTA have placed in us since introducing the Hopes program to Australian Table Tennis together in 2013 and now I can really say that it has become the benchmark event for all 11 and 12 year olds" Gerada said.
The LOOPS camp have continually delivered quality 11 and 12 years olds and are obviously proud of their involvement with the Hopes Program having qualified five kids over seven times to the Oceania leg of the program in the past but when it came to tips as to whether his clubs champions could qualify again this year?  "Hopefully Heming Hu is the final touches to a good preparation for our contenders" Gerada said.
The program will begin Monday the 21st from 8:30am and will conclude on Friday with an event to decide the 2019 National Hopes Champions and Qualifiers for Oceania at LOOPS Table Tennis located at 618 Somerville Road, West Sunshine.
Entry List:
Daniel

Noura

Ananya Nandakumar

Charlie

Hollow

Celine Chen

Haneul

Kim

Jasmine Wu

Lucas Lum

Erika Yong

Nicolas

Chee

Connie

Psihogios

Askyn Toko-Watene

Hanna (Zhuo Ying) Goh

Won Bae

Olina Qiao

Jeffrey

Guo

Rachel

Goh

Yi-Jen

Hsu

Valentine Chew

Chulong Nie

Inaaya

Khan

Oscar

Savige

Vincent Lim