Back to All
REGISTER NOW FOR ONE FREE MONTH IN JUNE!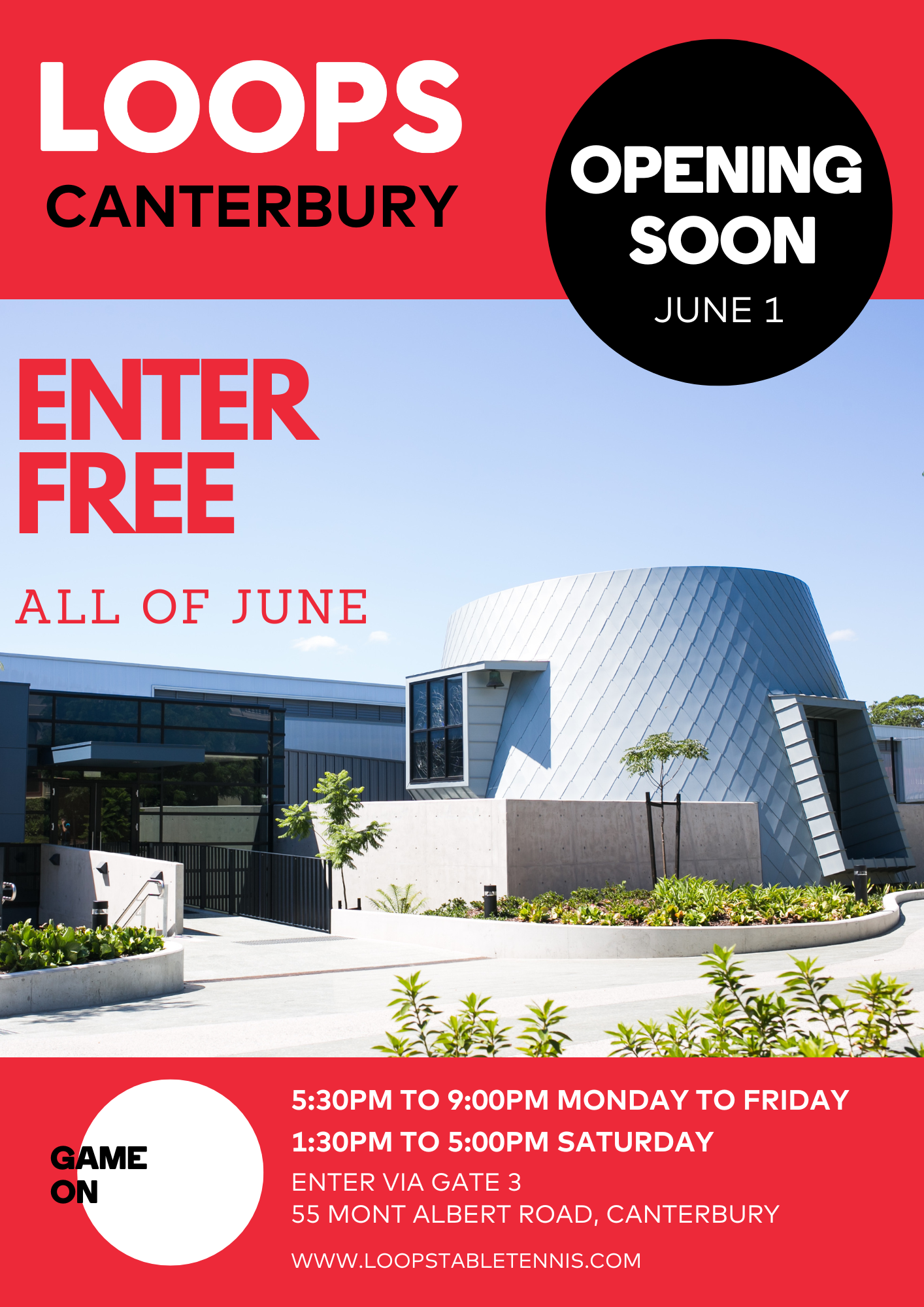 From June 1, 2023 we welcome you to come visit us and enjoy playing at our newest 12 court set-up venue in Canterbury. Enter via Gate 3 Entrance, 55 Mont Albert Road, Canterbury. Learning the art of table tennis in China during the 1990's, Simon Gerada played professionally for a decade across the world. He studied multiple coaching techniques from World Champions and is now enriched with three decades of experience and has designed a time-tested tailored program with carefully selected coaches to offer you a unique and fulfilling experience. LOOPS is also proud to introduce VALENTIN BAZENOV, a former World #4 junior & German Bundesliga star. He has spent the last 10 years working with World Class elite athletes including Germans Dimitrij Ovcharov and Ruwen Filus! Valentin now brings his wealth of experience to LOOPS in Canterbury from June 1, 2023.
LOOPS, now located across Melbourne (West Sunshine and Canterbury) is widely recognised for high quality personalised training techniques, catering for diversity, all levels, styles and preferences of play. Whether you are seeking a casual hit or a specific program we have your covered with our experienced team and the following scheduled programs.
LOOPS TEAM CLUB TRAINING
Trusted by Australia's best athletes. Learn expert techniques, improve your skills and understand the methods required for sustainable improvement.
Mon to Thu 5:30 to 9:00pm

Saturday 1:30pm & 5:00pm
Available in West Sunshine and the new Canterbury venue.
LITTLE CHAMPS CHILDREN UNDER 11
Specifically for children aged 11 and under to 'bounce' into table tennis with a smile and meet new friends.
Tuesday 6:30pm to 8:30pm

Thursday 6:30pm to 8:30pm
Available in West Sunshine and the new Canterbury venue.
GAMES NIGHT OPEN TO ALL LEVELS
Games night is aimed at improvement, putting practice into play. Whether it's a top-table shoot out or mini tournaments. Prizes and intensity included.
Available in West Sunshine and the new Canterbury venue.
Download the our FREE ENTRY JUNE CANTERBURY brochures here.